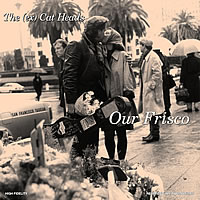 The (ex) Cat Heads' classic "Our Frisco" is now available in a limited edition of 750 copies. This classic album from San Francisco heroes of the early 90s is as sublime today as it was then. Once there was a band called The Catheads. Then they became The (ex) Cat Heads. Originally released on vinyl in 1990 on Twitch City, Lamingtone's deluxe CD reissue of "Our Frisco" is digitally remastered and contains four previously unreleased bonus tracks, additional photographs and extensive liner notes by Denise Sullivan. "Our Frisco" is available at Darla Records.
The critics have their say:
SF Weekly - The Big Question is: are they still any good without Melanie? Well . . . yeah. Actually, former Cat Heads vocalist and drummer Melanie Clarin, currently of Harm Farm, adds her ironic-but-cute voice to one track here, "Anti-Song" ("This song doesn't wanna make you dress all in black . . . .this song won't get any airplay on the radio," etc.). But the (ex) Cat Heads forage pretty well for themselves most of the time, plucking choice musical berries and pulling up folk-rock roots and tubers to create an album that's by turns lilting, sad, serene, melodic, and intense - kind of like the city it's named after.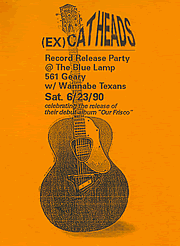 One look at the album cover and you know what's going on here. The (ex) Cat Heads have meticulously recreated an LP circa 1961, complete with sepia-toned photo of guy-in-cap kissing gal-in-babushka on the front and ersatz liner notes (liner notes?) on the back. Inside the influences you expect to be there, are - Simon & Garfunkel, Peter, Paul & Mary, the Hollies - except that they've had twenty years to blend with each other. The resulting songs are funny, even droll, without being novelty music, terse without being enigmatic, and they rock without being ingratiating.
"Our Frisco" would go great with a rainy, foggy day and a cappucinio, which is surely what the (ex) Cat Heads intended when they recorded it. - Dave Dumanis
New Music Report: Vol. 23, No. 6, Issue #197 June 8, 1990 - This LP is sort of a dream sequence of the Catheads ideal without the interruptions of mundanity that plagued the band during its lifetime. . . . Almost all the folkier, cumbersome bohemianisms have been weeded out, and we're left with a residue of wispy, precise and sharply poignant strum-rock that doesn't sacrifice gut for soft-spoken beauty or vice versa. Their loping, laid-back riffs encapsulate the barefoot free-spiritedness of their environs in the best poet-gone pop star manner, the daisy chain reaching back to Moby Grape's first album. There are more heart-wrenching tag lines per groove here than most bands can manage in a dozen albums, but go to town on "Nothing" (the less electric version), "Too Little, Too Late," "Something In The Way" and "Anti-Song."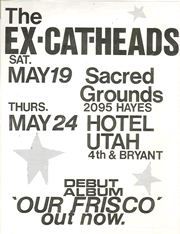 BAM (Bay Area Music Magazine) - Most everything about this album feels dashed off, from the "let's-see-if-we-can-stretch-these-songs-a-little-farther" repertoire to the casual production and musicianship to the self-deprecating name (the Cat Heads having been a Bay Area group that recorded two albums for Restless in the late '80s). In fact, you sense that these guys put more time into the campy early '60s cover concept and liner notes than into the actual recording. If that was the case, then they spent their time wisely, because "Our Frisco" is an album that works splendidly on its own serendipitous terms. . . . [T]he (ex) Cat Heads have put together a rare record that's generous, comfortable and inviting. I'll keep coming back. - Steve Stolder
Creative Loafing - As the name implies, the ex-Cat Heads feature former members of the Cat Heads, a San Francisco group that released two excellent albums, including the David Lowery (Camper Van Beethoven) produced Submarine. . . . "Our Frisco" is a weird record, but in all the best possible ways. - Tom Roe
Factsheet Five - From San Francisco comes this eclectic band's record, working its mood from comfortable folk and blues influenced songs to hard rocking numbers that maintain an acoustic edge. The rock tunes, from hard driving to jangly guitar pop are strong songs, the teeth coming out with "Anti-Song," an acoustic rocker that "Ain't getting any airplay on the radio, 'cause this song says the word shit." A diverse record that excites and relaxes effectively. (LP/PMZ)
| | |
| --- | --- |
| info at catheads.com | catheads.com © 2012 |