| | |
| --- | --- |
| It Thing, featuring Melanie Clarin De Giovanni, Josh Housh and Mark Zanandrea, present "Kensington Way Revisited" on 180gm vinyl. Now available at ETown Records | |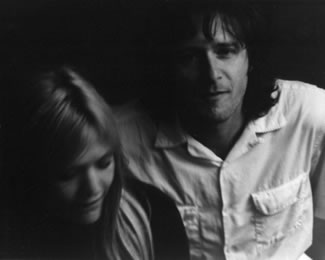 Biography

It Thing sprang from the minds of former Cat Heads, Mark Zanandrea and Melanie Clarin. Their album "The Ode to Billy Joe Bob Dylan Thomas Jefferson Airplane Experience" (Baited Breath, 1992) was independently released and featured superbly arranged pop songs. Almost all the material was recorded in makeshift, low-tech conditions.
The title track is, as the title suggests, a soldierly ode that opens with a military drumbeat, but the tender, naive hippie refrain is married with madrigal-esque vocal harmonies and a sinister, slovenly college-rock progression. This play of contrasts behind the seeming simplicity is probably the key to reading the entire album.
In Send, we seem to hear all at once an old-timey jug band, the mannerist pop of Game Theory and the humble rock and roll of the Galaxie 500. Rite Me Rong manages to capture in one snapshot the bass drum of country and western, the hiccups of rockabilly and the crackling guitars of the 1920s.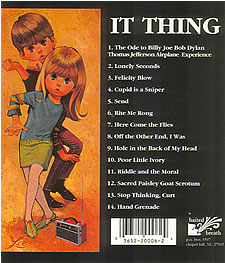 Even if the high points of this record are the magical folk-rock tunes, the trio knows how to growl too, whether in the ultra-electrified Cupid Is a Sniper, the urgent Lonely Seconds, which recalls the Stones at their most tribal, or the agitated garage rock of Stop Thinking Curt.
In line with the psychedelic singers of the 1960s, the two songwriters indulge in apolitical tones: from the solemn and nervous Neil Young-esque elegy of Hole in the Back of My Head to the quasi-religious Hand Grenade, to the lyrical testament of the album, Here Come the Flies, a disturbing metaphor of wartime surrender with a passage from the ethereal to the infernal that suggests Tim Buckley or Bob Dylan run through the mill of grunge rock.
Zanandrea and Clarin are two of the most independent minds to come out of the 1980s. They inherited the hippies' unbridled imagination and propensity to experiment, and steeped them in pure pop to create music without trends or boundaries. - Piero Scaruffi; reprinted here with permission from The History of Rock Music site - © 1999 [translation from the original Italian by Sarah Miller].
| | |
| --- | --- |
| info at catheads.com | catheads.com © 2012 |